Road trips are fun to explore new places. India encompasses numerous spots across different parts throughout the country. So, it doesn't matter which part of the country one lives in, there is always an option of planning a road trip in India.
We did a 10 days motorcycle road trip from Mumbai-Goa-Mumbai via the Coastal Route traversing through scenic seaside villages with endless stretches overlooking the sea. Ride on the sea with your vehicle loaded on a ferry and feel the sea breeze showering you with salted kisses. The coastal route is worth an experience.
This route is less explored as it takes much more time than the other two popular routes of Mumbai Goa Highway (NH66) and Mumbai-Pune-Bangalore Highway (NH4). If you are a traveller and like to roam the roads just like us, this route is for you.
In this article, we will guide you through the coastal route and share our experiences which can help you plan this beautiful road trip.
| | |
| --- | --- |
| Date of travel | 03rd April to 12th April 2022 |
| No. of days | 10 |
| Total KMS | 1687 |
| No. of ferries taken | 4 |
| Vehicle | Motorcycle (Royal Enfield Standard 350) |
| Petrol cost | Rs 5196 |
DAY 1 – MUMBAI TO HARIHARESHWAR
Route – Mumbai~Kashid~Murud Janjira~Agardanda~Dighi~Harihareshwar (222 kms)
Ferry Point– Agardanda to Dighi Port. (From 8 am every one hour till 9:30 pm)
Our stay on day 1 was at Harihareshwar. You can also plan to finish your day at Shrivardhan which is around 20 kms before Harihareshwar.
Once you hit NH66, just before Karnala there are many breakfast options. We ate at Joshi Wadewale serving authentic Maharashtrian breakfast. Puneri misal is a must try.
Move ahead to Alibaug via Vadkhal junction on NH66. The coastal route begins from here. Skip the halt at Alibag as it can be easily explored any other day from Mumbai. Around 30 kms from Alibag and on the way towards Murud Janjira is Kashid Beach. There are lots of shacks with hammocks offering snacks, cold drinks, and coconut water. You can relax here for some time.
If you are looking for a more secluded beach, then skip Kashid and ride 15 minutes further to Nandgaon Beach. A peaceful and silent place with clean water. Good place to relax in shade of the coconut trees. There are not many eateries here.
We took our first ferry at 1:15pm from Agardanda jetty. It drops at Dighi Port situated on the bank of Rajpuri creek in 15 minutes. From here, Harihareshwar is 48 kms. Road from Dighi is under construction but still a manageable ride.
Sadguru Krupa Khanaval (7350380167) on Dighi road serves homemade meals at a reasonable price. We tried veg & non veg thali. Food was simple and tasty.
Harihareshwar Beach is a stretch of calm and serene waters with unpolluted cool breeze wafting along the sea-shore. After a long ride, this is a perfect place to spend the evening. Visit the 16th century historic Harihareshwar Temple located on the coast. It offers a great combination of natural beauty with spiritual enhancement.
DAY 2 – HARIHARESHWAR to GANPATIPULE
Route – Harihareshwar~Bagmandla~Vesvi~Harnai~Ladghar~Dabhol~Dhopave~Guhagar~Tavsal~ Jaigad~Ganpatipule (164 kms)
Ferry Point-
Bagmandla to Vesvi (From 7:30 am every 1 hour)
Dabhol to Dhopave (From 6:45 am every 45 min)
Tavsal to Jaigad (From 6:40 am every 1 hour)
Day 2 is all about ferry crossing. There are 3 ferries to cross. We took the first ferry at 10:30 am. We were late as we spent the morning doing photography at Harihareshwar.
After a 30 minutes ride, you reach Bagmandla Jetty. The ferry crosses the river Savitri and drops you to another side called Vesvi in 5-10 minutes. It saves you almost 30-40 kms of ride.
Once you reach Vesvi, you need to head towards Dabhol Jetty via Kelshi~Harnai~Murud~route. This is a wonderful stretch of internal village roads. There are many places where you would like to stop and take your time to admire the views and take photographs. Of course you should, as you are roaming the roads to enjoy the journey, aren't you?
We took our 2nd ferry from Dabhol at 3:45 pm which dropped us at Dhopave in 10 minutes. From here, your next destination is Tavsal Jetty which is 50 kms away. And then, 22 kilometers more and you reach Ganpatipule.
We would like to share a small experience here. It was already 4:30 pm when we left for Tavsal. Our concern was whether we would be able to catch the 6:40 pm ferry. Missing this means waiting for another one hour. The roads were pretty good but narrow with a lot of hairpin turns and for miles we were the only souls to be seen. You can imagine the thrill of riding alone.
It was just when we were soaked in our aloneness, climbing the ghats we came across two young cyclists who were slowly pedaling their way up. I slowed down the bike and initiated a quick conversation. Cycling all the way from Mumbai they were also going to Goa. This was their first bicycle trip. They too were heading towards the jetty. I informed them about the ferry timings. Cheering them up I accelerated. We wish we could stop and listen to their on road experiences, but we did not want to miss the ferry.
We reached the jetty 15 minutes before time. There were not many passengers. We were waiting for the ferryman to allow us in. And when he did, I got up to start my motorcycle and unexpectedly the cyclists turned up just before the ferry was about to leave. And there we were, stretching ourselves and one of them sharing their experiences as the ferry started moving with the wind gently kissing our faces. Their story reflected courage and determination. It was a good feeling to meet these inspiring souls.
After a 20 minutes of ferry ride, we reached Jaigad Jetty. Knowing we wouldn't meet again, bidding them goodbye we parted our ways.
We reached Ganpatipule at 8:30 pm.
DAY 3 – GANPATIPULE to TARKARLI
Route – Ganpatipule~AareWare~Pawas~Devgad~Tarkarli (181 kms)
No more ferry crossing. Right till you reach Malvan, ride on this beautiful stretch with wonderful views of lush greens, clear, sparkling waters of pristine white beaches, and ancient colorful temples each of which has a unique story to tell.
Before you begin the ride, visit the 400 year old famous Ganpatipule Temple situated on the beach. Around 1 km from the temple is Prachin Konkan Museum. This is an open air museum featuring sculptures depicting traditional konkan life and culture. A trip to Ganpatipule without visiting this is incomplete.
After a 30 minutes of ride, you will reach a combination of two beaches Aare & Ware which are located next to each other. The stretch is so breathtaking. Definitely a must halt. There is a certain freedom in finding a small piece of the world that belongs only to you, if only for a short time.
There are many places on this route where you would like to stop. Visit some villages on the route. Talk to the locals, fishermen. The people of Konkan are very helpful and humble.
Other places to explore enroute – Devgad & Kunkeshwar
We reached Malvan at 7:00 pm. Our stay was at Ghar Malvankarache (8600381490) – a homestay run by a humble family. They have budget friendly rooms which are clean and comfortable. But above all the food is just awesome. I tried Prawns Masala with Malvani Vade. It was simply delicious. Next day morning for breakfast, Archana aunty served us Ghavane with Cocunut chutney. Whenever I visit Malvan again, I am definitely going to eat here.
DAY 4 – EXPLORE MALVAN
A day is not enough to explore Malvan. Malvan is a kind of place that makes you want to stay on forever if possible – with the waves and the sands, the trees and the stars. But even if you are here for a day or two, you will take back something- if nothing else a snapshot of a unique seashell on a mesmerizing beach.
Take a leisurely walk through the villages, when sunlight filters in through the palms. You will pass women sorting dried fish outside their homes. Give them a smile and you will surely receive it back. This little Konkan town has a bustling jetty with a tangle of boats and roof tiled homes where the scent of wood smoke and aromas of fish curry drift into your memories.
Places you shouldn't miss to see – Tarkarli Beach, Chiwla Beach, Deobagh Village & Sindhudurg Fort
If you love watersports, then indulge yourself in Scuba Diving, Dolphin Safari and other water activities held here.
DAY 5 – TARKARLI to GOA
Route – Tarkarli~Vengurla~Shiroda~Goa (109 kms)
It was time to go GOA. We were excited.
As we were riding towards Vengurla past peeping palm trees, towards a turn I heard a voice which seemed familiar to me. I turned to see and it was just what we hadn't expected. There they were: the two cyclists. We were happy to meet them once again.
We used different modes of transport while roaming the roads but we could connect with each other the joy of enjoying the road trips. Road trips are full of surprises, isn't it? Who knows, we could even meet in Goa.
Keep riding 50 kms till you reach Vengurla. Leisurely ride past the village in the shadow of the verdant plantations of cashewnuts, mango and coconut trees.
Around 3 km from the Vengurla market, Sagareshwar Beach is hidden away behind rows of tall casuarinas swaying in the wind. A small temple of Sagareshwara (Lord of the Sea) is located on the beach.
Located at the end of a winding hilly road and about a 45 minute ride from Sagareshwar is Shiroda Beach. A less explored and virgin region of the Konkan, Shiroda beach is carpeted with silvery white sands, cool blue waters and gentle sea breeze.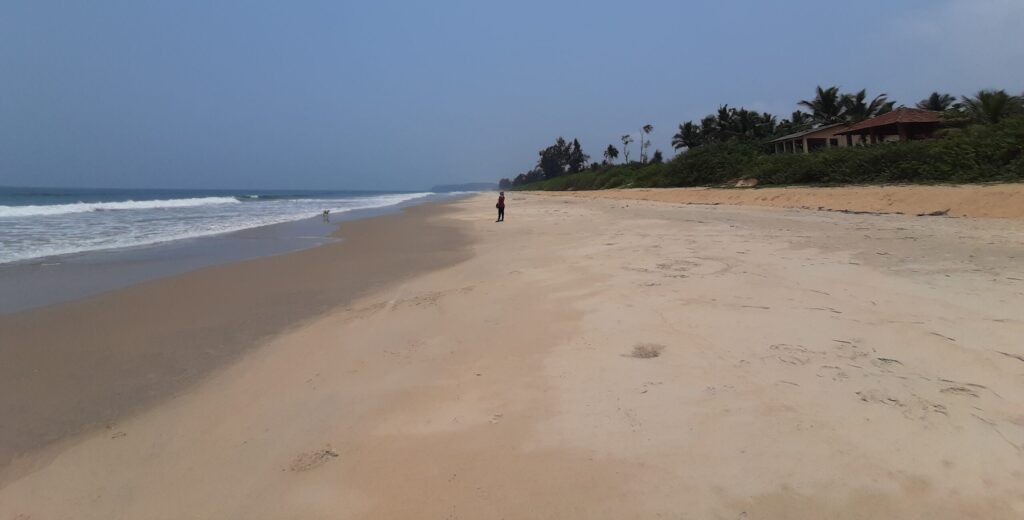 Other places to explore enroute – Nivati Beach, Redi Beach & Sawantwadi
We reached Goa at 4 pm. Our stay was in Anjuna, North Goa. Having checked in our guest house and freshening up, we spent the evening at Vagator Beach. If you are a party going person; then this is definitely the place for you with rave parties going till the wee hours of night. We somehow managed to find our small corner of happiness on this crowded beach
DAY 6, 7 & 8 – GOA, GOA & ONLY GOA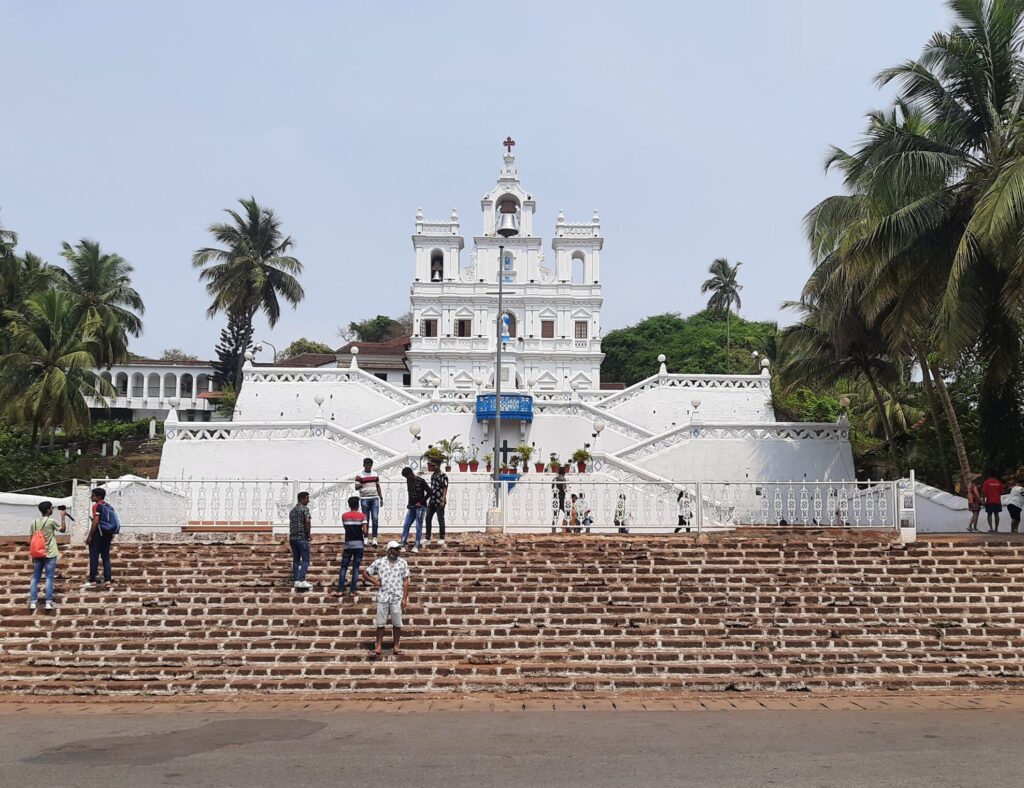 Hurray!! Finally in Goa. Yes, the much awaited destination. You have to plan these 3 days well depending on where you wish to stay between North & South Goa. These will again depend on your travel taste and what you want to experience in Goa. For peace and solitude, and offbeat experiences, head to South Goa.
We will share in short how we spent our 3 days in Goa –
Day 1 – We explored places which were near our guest house from Anjuna. Overall distance covered 40 kms exploring Baga beach, Sinquerim Fort, Reis Magos Fort, Fontainhas & Chapora.
You must try Fruit Salad with Ice Cream at Scarlet Juice Centre, Chapora.
Day 2 – This day we rode 85 kms to South Goa to experience kayaking in the backwaters of Cola Beach. Cola beach is one of those offbeat destinations, where the beautiful blue lagoon meets the unstoppable wave of the Arabian sea.
You can rent a kayak for 30 minutes to surf through the backwater at Rs 150 only.
On your way back to North Goa, if you are able to reach before dusk take the route through Parra Road. Lined with palm trees and fields on both sides, end your day watching the magical sunset.
Day 3 – An impulsive decision and we were riding towards Ribandar Jetty from where a ferry (free of cost) would take us to Chorao Island. Having done with beaches we wanted to explore something different. It seemed we had escaped into a sleepily quaint, laid-back and picturesque village from a different era with its Portuguese-styled manors and churches. It is also home to the offbeat Dr. Salim Ali Bird Sanctuary.
Once done with the island, we headed straight towards Morjim Beach to have lunch at Smoke Fish Cafe (8975557019) The restaurant is run by a family on the terrace serving authentic Goan homemade cuisine. One of the best foods we had in Goa.
We ended our last day shopping at Anjuna Flea Market and then taking a quiet walk on Anjuna Beach retrospecting on our journey from day one. This road trip had been one of the best things in life we had experienced.
Two more days on the road still…. The journey was not over yet.
DAY 9 – GOA to MURUD (DAPOLI)
Route – Goa~Kankavli~Chiplun~Khed~Dapoli~Murud (392 kms)
This was a long ride for us. Almost did 400 kms. We took NH66, the four lane Mumbai-Goa highway till Khed and then took a diversion towards Dapoli.
When we had halted at Sangameshwar for lunch, we decided not to stay in any of the hotels on the highway but instead chose to ride a few extra kilometers and stay on the beach. It was as if the sea was calling us back to the coastal route. So I called Aviraj Niwas, a homestay at Murud Beach in Dapoli where I had stayed earlier and immediately booked a room.
The highway is in good condition from Goa to Kankavli and you will enjoy riding on this four lane highway cruising at 60 kmph. After Lanja the road turns into a two lane. And you have to ride carefully as the road widening work is in progress and there are diversions every few meters.
These bumpy roads were tiring for both of us. But as soon as we left the highway and took a diversion to Dapoli we felt relief. We were once again riding on the coastal route. The sky at the sunset formed a perfect backdrop for a ride along the winding road. And in no time the moon slowly climbed up and casted its silvery reflection.
DAY 10 – MURUD (DAPOLI) to MUMBAI
Route – Murud~Dapoli~Mandangad~Tol Phata~Mangaon~Mumbai (250 kms)
Tired, but still we got up early in the morning as we had to go to Murud Beach for Dolphin Safari. We decided on this at dinner last night while talking to our host. He assured us that dolphins are guaranteed to be seen. So we thought of taking a chance. We did see a few of them after a long wait in the middle of the sea. The ferryman was kind enough not to drop us at shore without the sighting of dolphins.
Murud is a small town with a scenic and long stretch of beach dotted with crab holes and swaying palms. It also has many beach resorts situated amidst coconut plantations.
Olive Ridley Sea Turtles have also been spotted here
We explored a new route for our last day on the road. From Dapoli market, we took a left turn towards Mandangad. It took us to Mangaon on NH66 through internal village roads.
Returning home after being 10 days on the road was a bit depressing. I remembered one of John Denver's compositions, '' Hey, it's good to be back home again".
This homecoming was quite different from all the others I've had in my life. Coming home conjures up numerous emotions, and we were returning home with pleasant memories.
– Clement & Steffe