AAREY MILK COLONY – also known as the green lungs of Mumbai, is known for its lush greenery, tall trees, grasslands and rocky hills and various species of plants, birds, insects, butterflies and moths. It becomes a paradise in the monsoon with free flowing water streams, blooming biodiversity and enchanting woods with rare flora and fauna right in the middle of the urban concrete Mumbai.
It covers a total area of 3160 acres of land and is considered as an ecological hotspot. There are more than 30 large cattle farms and fodder cultivation zones. It is one of the last remaining green patches of the city which is also connected to Sanjay Gandhi National Park where leopards still prowl in the dark.
Aarey is not just a forest, it is more than that. It's a habitat for a huge number of living creatures with complete food-chain of biodiversity.
We did a morning walk to experience the marvelous grandeur of nature and discover and photograph the ecological treasure of Aarey Colony. The trails in Aarey are especially good for nature-watching in the latter half of the monsoon.
Off the western express highway in Goregaon, the busy Aarey Road runs through the forest for 6 km connecting to the eastern suburbs. During the daytime the main road is very busy with vehicles. To experience the magic of forest, take the diversion from the main road to the many of its trails that lead to the tribal hamlets. There are around 27 adivasi padas (hamlets) in Aarey colony where the original inhabitants live in harmonious relationship with nature.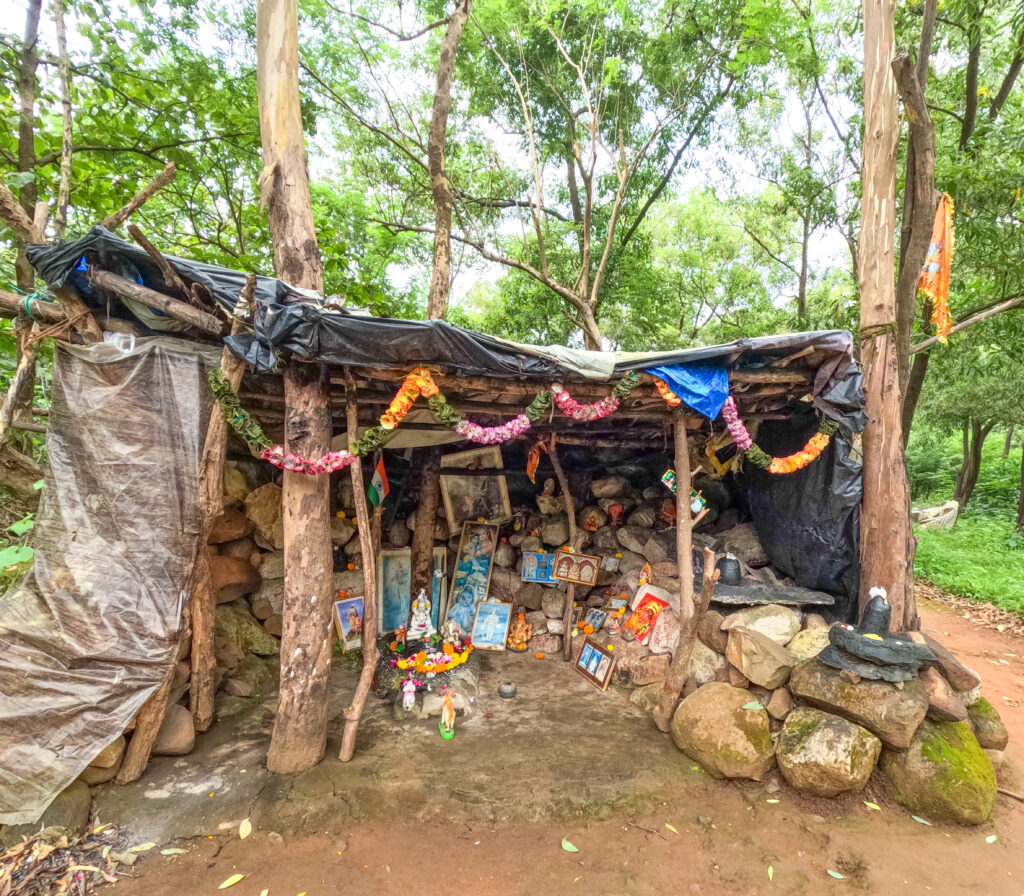 These walking trails, in different seasons, always have something to delve into. You can spend time in Aarey for hours and find different things to explore.
We took the road which goes to the New Zealand Hostel. It is one of the most popular trails among nature enthusiasts. The trail has a good tree cover along the stretch with some fine views over Aarey and the soaring townships beyond. There are several diversions and they are well worth a nature walk any time of the year.
The grass and scrub along this trail are ideal to spot butterflies and birds. We spotted various colourful caterpillars, butterflies and birds like white-breasted waterhen, baya weaver, tailorbird.
From the paved path, we entered a narrow trail in the forest. There was a small temple made by the tribals which was layered with stones and supported with branches and a polyethylene roof. Photos of gods and goddesses and two lingams (shiva linga) were placed on the stones. Further ahead on a small patch of land, the Karvi shrubs had bloomed attracting bees and butterflies. The Karvi flower blooms once every eight years. The purple carnival is a beautiful sight to behold in flowering time. We spend some time watching the bees draw nectar from the flower, caterpillars munching on the leaves and photographing the fluttering butterflies.
The Spiral Ginger plant had also flowered in the dense foliage of herbs. The flowers are white with a yellow centre and give a peaceful appearance to the green foliage.
NEW LEARNINGS ON THIS TRAIL:
THE STICK CATERPILLAR
Take a look at the two photographs below.
Looks like a twig or a stick, doesn't it? We also thought so. But as I observed it closely, the front part which looked like a broken stem actually resembled a face. It lay so still on a twig of a plant that anyone could mistake it for a dry stick.
This is a caterpillar of a 'Peppered Moth', which looks like a stick. They resemble bark and branches to hide from predators like birds. It moved its body into a broken twig like position and held it at an angle long enough to avoid being detected. After some time, it raised his body and moved a little.
THE LEAF ROLLER
As we continued our walk on this trail, courtesy of good observation from Steffe, we came across a few plants which had some of their leaves rolled up as if they were hiding something in it. Upon observing it minutely, we saw that the leaves were rolled and tied by some insect. And this became clear when we actually saw a caterpillar turning a leaf into a tube-shaped shelter to protect itself from predators. It was folding the leaf and sticking the ends together with silk to make a hollow shelter for himself.
These caterpillars are known as 'Leaf Rollers' that roll or fold leaves together to make a protected area to feed and grow. They stay within this leafy home and continue eating the leaves from the edges.
This short nature walk to Aarey Colony was a very refreshing and an informative one.
Nature operates in silence, only if we could learn how to see and hear. That silence something we too often miss.
PHOTO GALLERY