Kondana is a small tribal village in Karjat and home to the historic buddhist caves. The village and caves can be easily explored in a day and it is perfect for beginners looking for a small hike.
Monsoon has arrived in Mumbai. It thundered as we board the train in Dadar at 6:24 am. The dark clouds hovered above and it looked like an overcast day. We were excited to explore a new place. But the weather changed as the train hurried through the fields once it crossed Badlapur. The sky ahead looked very clear with no signs of rain. Only patches of gray clouds moved with the wind.
Autodrivers in Karjat will charge anywhere between Rs 250 to 300 to drop you directly at Kondivade village which is about 12 kms from station. The hike to Kondana caves starts from this village.
If you are on a budget or going solo or with only a friend to accompany, from Karjat station keep walking for 10-15 minutes till you reach Shri Ram Pul (bridge) from where share taxis are available at a minimal charge of Rs 20 per person. 
Rolling java plum (jamun) on our tongue we kept walking towards the bridge. Probably, last time relishing this purple fruit before the rains. The taxi was already full with only 2 seats left (that's what I thought). But the driver loaded 12 people in this 7 seater which moved through the bumpy roads with the views of hilly terrains emerging from the Karjat plains. Steffe and I have acclimatised ourselves to village transportation. It's fun and saves money. And if you can start a conversation with a local in it, in no time you will reach the destination forgetting your discomfort.
The highlight of this walk is the Ulhas river which flows besides the village. The Ulhas river is an important resource for farming in the rural areas of Karjat. However, not everything is good. Growing human and industrial activity are releasing untreated sewage into it. The bank of the river was visibly polluted with plastics and household waste.
Nevertheless, you will find some place along its bank, where you can spend some peaceful time watching the Little Cormorant bird diving into the river to feed and then come up perching with their wings spread out in the sun to dry their feathers.
A roaring train slithering from the tunnel across a distant hill can be seen as you keep walking on this road beside the river.
As you walk alongside the jamun and gulmohar trees, you will come across a couple of farm houses – Patil Wadi & Sayali Farms providing homestays. If you are looking for a comfortable stay, you can probably check in here.
Kondana village is just a few minutes from here. A typical tribal hamlet where houses are made with wood, mud and plaster of cow dung. The people here belong to the Dhangar tribe and also rear goats for meat. The village has open grazing space with plenty of fodder available. Villagers here still follow the old tradition of storing wood for the rainy season. It is very common in remote villages where men and women are busy collecting firewood. Their simple life is so full of contentment.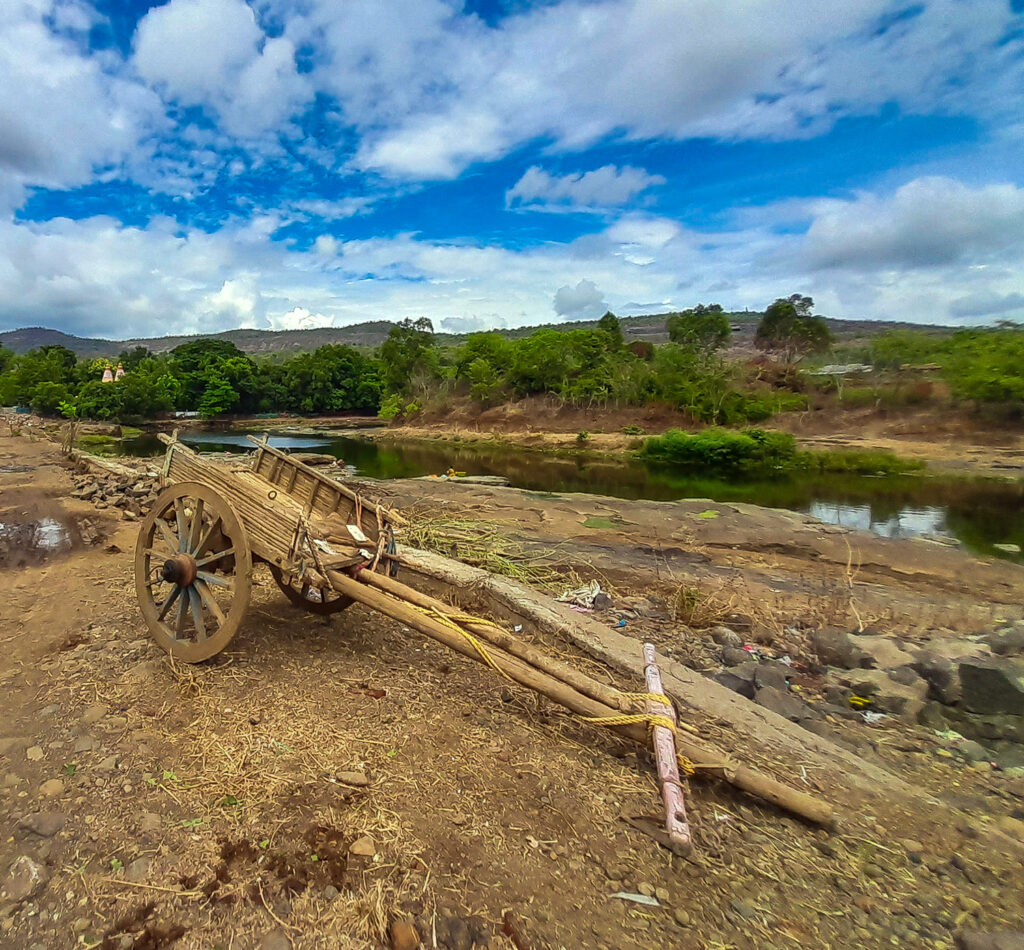 While Steffe immersed herself fondling the chicks and cuddling the goat, I joined a group of village kids playing cricket with bat made from a bamboo. I wasn't able to hit a single ball cleanly. One delivery took an inside edge and ball raced towards leg side which I only had to run all the way to get it. And that brought a smile on all our faces. How patiently they tolerated my small innings. So much innocence radiated from their being which we have somewhere lost in the mundane city life.
Two of the kids joined us to show us the way. In between they took a detour in the forest and started aiming stones at the hanging mangoes ready to fall anytime. They already had collected many mangoes. One of them offered us one. How sweet of him. I also managed to aim down one mango after many attempts, which I happily gave to them and left to find our way to the caves.
The trail to the caves is well marked with arrows put up on trees by the MBCPR (Maharashtrian Buddhist Caves Preservation & Research) team. You can even hire a local or take village kids alongwith. It is 30-45 minutes hike from the village. The reward of hiking in the summers is that you get to relish wild fruits like black berries (karvand), java plum (jamun) & mangoes. This trail has plenty of them. 
Yes, we missed the waterfalls and flowing streams that this trail offers in monsoon but summer season also has its own magic. The Kusum tree should not be missed. It carpets itself with red leaves adding vibrance to the forest. Look out for the oriental garden lizard perched on a rock or looking at you from the trunk of a tree. And the karaya tree (ghost tree) sprouting out new young green leaves with its white stem looks so striking among the backdrop of barren hills. 
We reached the caves and found it hidden in a steep rocky slope, overgrown with jungle growth. They are a small but interesting group of caves isolated amidst the mountain ranges. The sculptures, stupa are in a ruined condition but they can still take you back to a different era.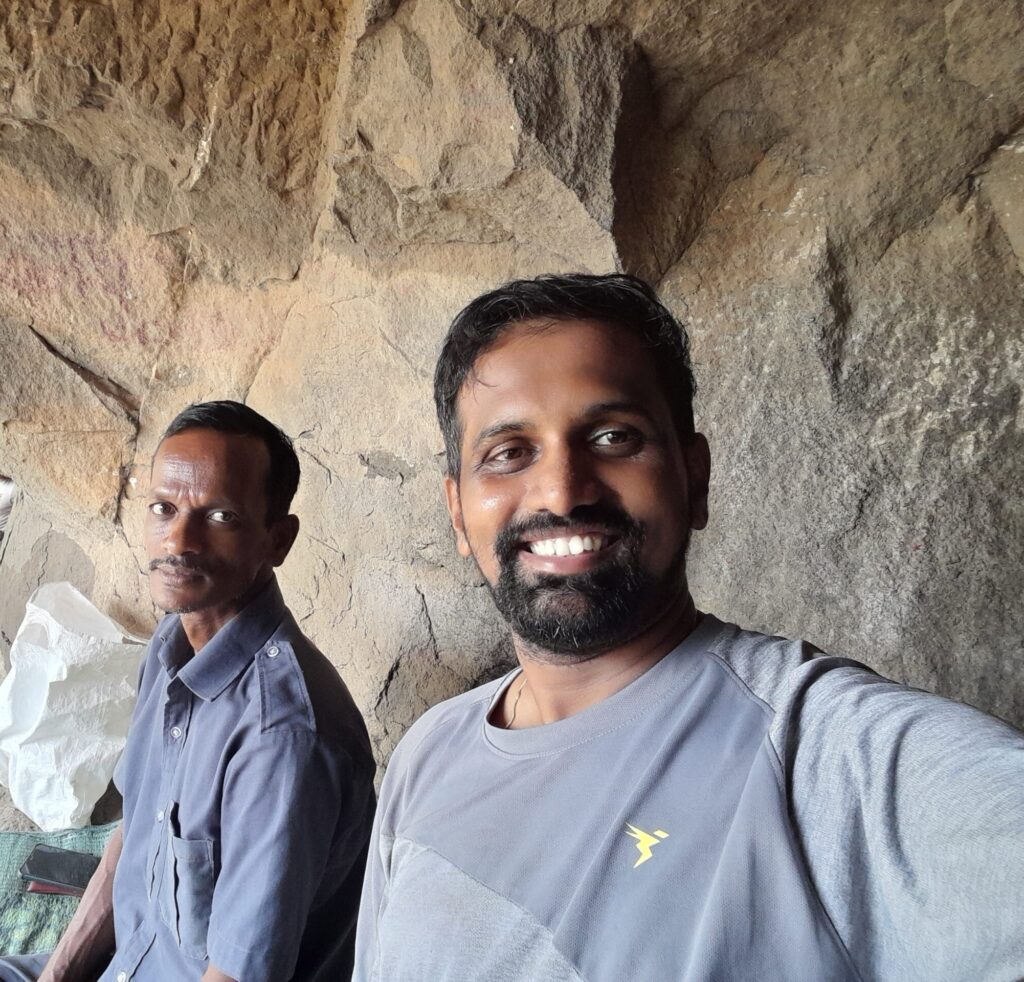 I enquired with guard Ankush, a local hired by MBCPR team to keep a watch on miscreant tourists, whether the caves were in restoration. He said that restoration work has been halted for 2 years for reasons unknown to him. Ankush keeps an eye on every tourist entering the caves. And becomes very active during monsoons as caves are flocked with all kinds of tourists. Do spend some time with him when you are here. He has many stories to share.
And above all, this stretch in the first few weeks before monsoon is profuse with fireflies. Spend some time in the dusk with the help of a local and uncover this magical world of fireflies flashing their tail-lights creating a twinkling and a starry night. 
To conclude, Kondana village and caves should be on your bucket list. It can be easily covered in a day. Weekends can be crowded during monsoons. No matter which season you go, you will be happy by the end of the day.
Few things we suggest – 
Carry your own food. There are no hotels. We ate at Samarth Krupa (9579295123). A house just adjacent to Yogeshwari Devi Temple. You have to give them orders in advance. Food is delicious and prepared in Maharastrian agri style. They serve both veg and non veg thalis.
No state transport buses are currently running from Karjat to Kondivade since lockdown.
Shared taxis to Karjat from Kondivade are available till 5 pm only. Post which they will take you on a private basis.
Parking available at Kondana village.
Do not light fire or smoke in the caves, there is a risk of attack from bees.
– Clement & Steffe
Time of Travel – First week of June 2022