"It is always the same with mountains. Once you have lived with them for any length of time, you belong to them. There is no escape", these words by Mr. Ruskin Bond – one of the oldest residents and author of Mussoorie seems to be relevant even today. We are longing to go back to the Garhwal Himalayas again as if we are having a life-long affair with the mountains.
It was always my dream to visit Mussoorie and Landour and all those places which I read in the books of Ruskin Bond. I never had the desire to meet him. I knew him through his books and that was enough for me to share a bond with him.
We did a week-long exploration in and around Mussoorie. And have some memorable moments to share with you alongwith places to visit.
From Mumbai to Mussoorie
Mussoorie can be reached by multiple modes of transport. The fastest being boarding a flight to Dehradun. But we have always loved train journeys which give us so many stories and memories to capture. There is no direct train to Dehradun from Mumbai which makes this journey a bit challenging. We took the Rajdhani Express to Delhi and had six hours to board the Janshatabdi Express to Dehradun. A quick rickshaw ride to India Gate and eating street food near Delhi railway station, that is all we could manage in this time (possible after keeping the luggage in the cloak room). The Janshatabdi express was already waiting at the platform. The two main halts of this train are Haridwar and Dehradun. We had to spend a night at Dehradun railway station as we (purposefully) did not book a hotel mainly for two reasons – to save money and to experience a cold night on a railway platform. Having read many railway stories by Ruskin Bond, my personal favourite being 'The Night Train at Deoli', I was excited to experience the cold winter night. Just to let you know, it was a very chilly night with cold reaching into our bones. And above it, we forgot our blankets in the cloak room. Although shivering, we managed to find a corner of warmth on the platform in the sheer silence of the night. Never take winters for granted in North India.
We took an early morning bus to Mussoorie from Dehradun bus stand. As the bus hurried from the streets of Dehra and climbed the ghat, I gazed above to see if I could get a sight of the queen of hills but the sharp turns and hairpin bends kept us swaying on our seats. The bus took 45 minutes to drop us at Library Bazaar.
Mussoorie runs from west (Library Bazaar end) to east (Picture Palace end). Motorised traffic is banned on the mall road for commercial vehicles. Transport along the Mall Road can be done by foot or cycle rickshaws. Our stay was in Landour, a small cantonment town in close proximity to Mussoorie. Himanshu Kharola, the owner of 'Bhagirathi Homestay' was very welcoming and provided us with a very clean and spacious room with a balcony. A balcony which gave me a first glimpse of the house of Mr. Ruskin Bond which was just 500 metres away from our stay.
It was a tiring but experiential two day journey. We left Mumbai on the evening of 25th Dec and reached Mussoorie mid-morning on 27th Dec.
Walking With The Deodar Trees
For most tourists visiting Mussoorie, the Mall Road is the beginning and the end. Either they take a walk or cycle rickshaw along the Mall, do a little shopping and enjoy a meal in one of the numerous restaurants.
But Mussoorie has more to offer beyond the Mall Road. First two days we explored some places by walking. Walking is an essential part of the Mussoorie experience in which lies the real pleasure of taking in the fresh air. There are few unspoiled places which should be approached only on foot.
Walk 1: Landour Bazaar – Chaar Dukaan – Lal Tibba – Sister's Bazaar
Landour is more or less undisturbed and more peaceful than Mussoorie. This walk will take you along the Mall Road and through the Kulri and Landour Bazaar, up the hill to Lal Tibba. Just on the ascent of the Landour slopes, we stopped at the IVY COTTAGE – The Ruskin Bond's House. How I wished for a small glimpse of him. Steffe could see it in my eyes. I did not want to knock on the door and disturb his privacy and introduce myself as one of his fans. I am his silent admirer and decided to leave and meet him through his finest work of writings.
The walk became more silent and peaceful as the road climbed between the deodar trees. The large open flat road near St. Paul's Church has a small park and the famous 100 year old CHAR DUKAN, literally meaning four shops. They are famous for their delicious breakfast food items. Munching hot pakoras and apple pancake we continued our walk. Landour has some of the oldest settlements which include St. Paul's Church built in 1840 and the original Landour Cantonment Post Office at Char Dukan.
A quiet walk past cemeteries, churches, old cottages and thickets of pine led us to the highest point in Landour – LAL TIBBA. At an altitude of 7500 feet (2286 metres) the top of the Landour Ridge remains the most secluded and beautiful area of the town, with spectacular views of the snow clad Himalayan mountain peaks, dense deodar forests and peaceful slopes. Apart from providing mesmerising views, the tranquil environment of Lal Tibba is relaxing.
As we continued our walk north towards SISTER'S BAZAAR, the air became more chilled as the sun began to sink. The bazaar acquired its name from the nursing sisters who lived near the British Military Hospital. Unlike any other busy market this place is without any hustle bustle. No one knows why it is called a bazaar. It is more of a colony with several old cottages and also houses the iconic bakery 'The Landour Bakehouse' which stands out for its classic art deco appearance. Do gorge upon British style bakery delicacies and intoxicating coffee.
We were very fortunate to see the sunset in Landour with the formation of a unique WINTERLINE. Winterline is termed as a magical phenomenon on earth where a false horizon is formed during the time of sunset. The lower portion of the winter line is dark in colour and the upper portion is light in colour. If you are visiting Mussoorie for the first time in winter, don't miss it. Apart from Himalayan places across India, winterline occurs only in the Swiss Alps.
Walk 2: Gun Hill – Happy Valley – Dalai Hills – Company Garden
Bored of parathas & omelettes for breakfast. Craving for south indian food in Mussoorie? Go to Cafe Madras on the Mall Road. Simple menu with tasty food and spacious seating. They serve 3 kinds of chutneys with unlimited sambar.
As we walked past the newly re-built Clock Tower in Landour Bazaar, an old shop housing antique artefacts and paintings caught my attention. 'MUSSOORIE HERITAGE CENTRE' goes unnoticed on the busy road of the clock tower. Only the ones with love for art can identify this heritage. It has a wide variety of products from handicraft items, souvenirs, postcards, old paintings, rare books. The majority of items on sale are directly linked to NGO projects in the local area.
This walk traverses through the busy Mall Road where you can also take a ropeway to reach Gun Hill situated 400 ft above the Mall. Otherwise it is a 30 minute walk from the town. It was our first cable car experience but Gun Hill has nothing much to offer except food and game stalls and shops where you can get your pictures taken in Garhwali costumes.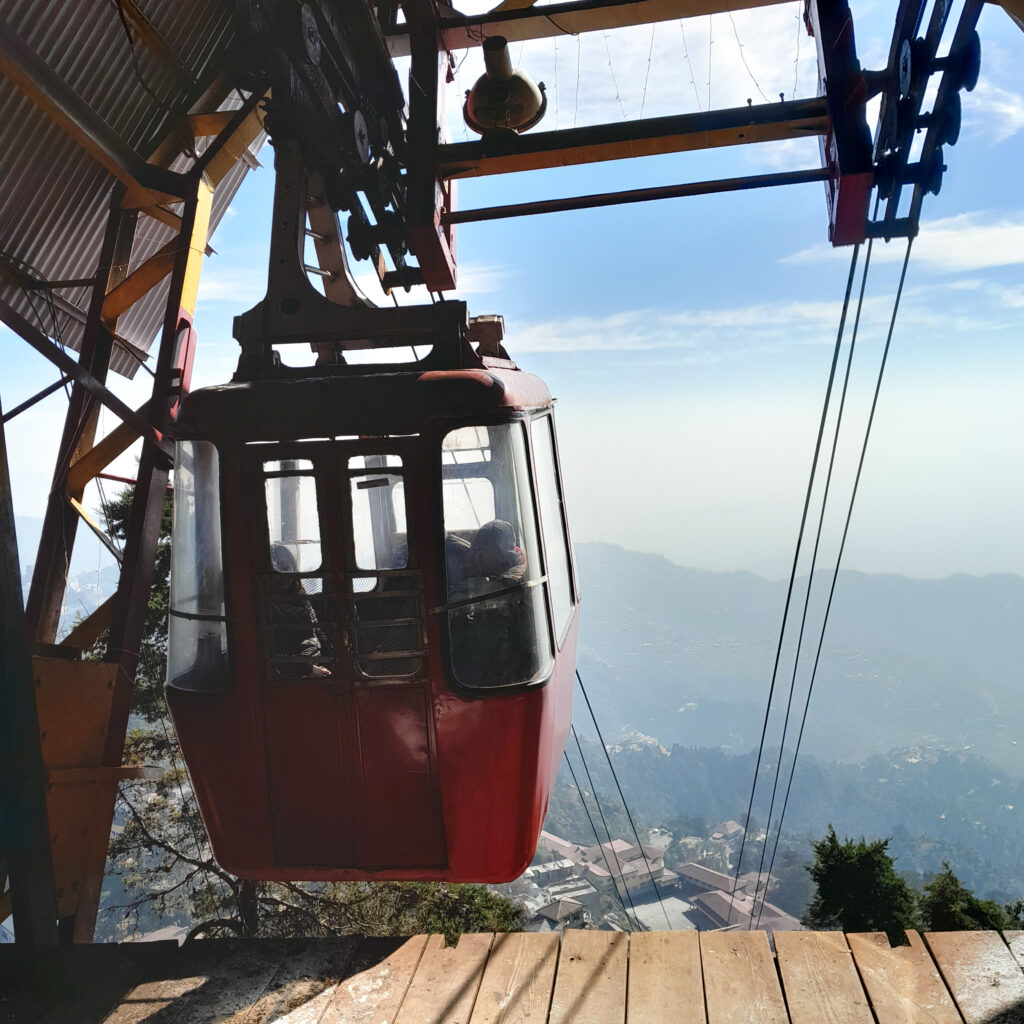 The highlight of this walk is HAPPY VALLEY ROAD. Happy Valley is a Tibetan settlement overlooking Doon Valley. It houses IAS Academy, Municipal Gardens, Tibetan homes and a Buddhist Temple. Gentle slopes and, traffic-less roads make it a treat to take a stroll. This place has a history of the Dalai Lama attached to it which makes a more interesting visit.
As we entered Happy Valley, we crossed the homes, school and various estates belonging to the Tibetan settlement. The winding roads surrounded on one side by deodar trees took us to Shedup Choepelling Buddhist Monastery. The monastery, mostly painted white is ornamented with lamps and blissful painting on the walls and ceilings. We took a stroll around the temple rotating the prayer wheels. And spent some silent time soaking in the peaceful vibe of the place.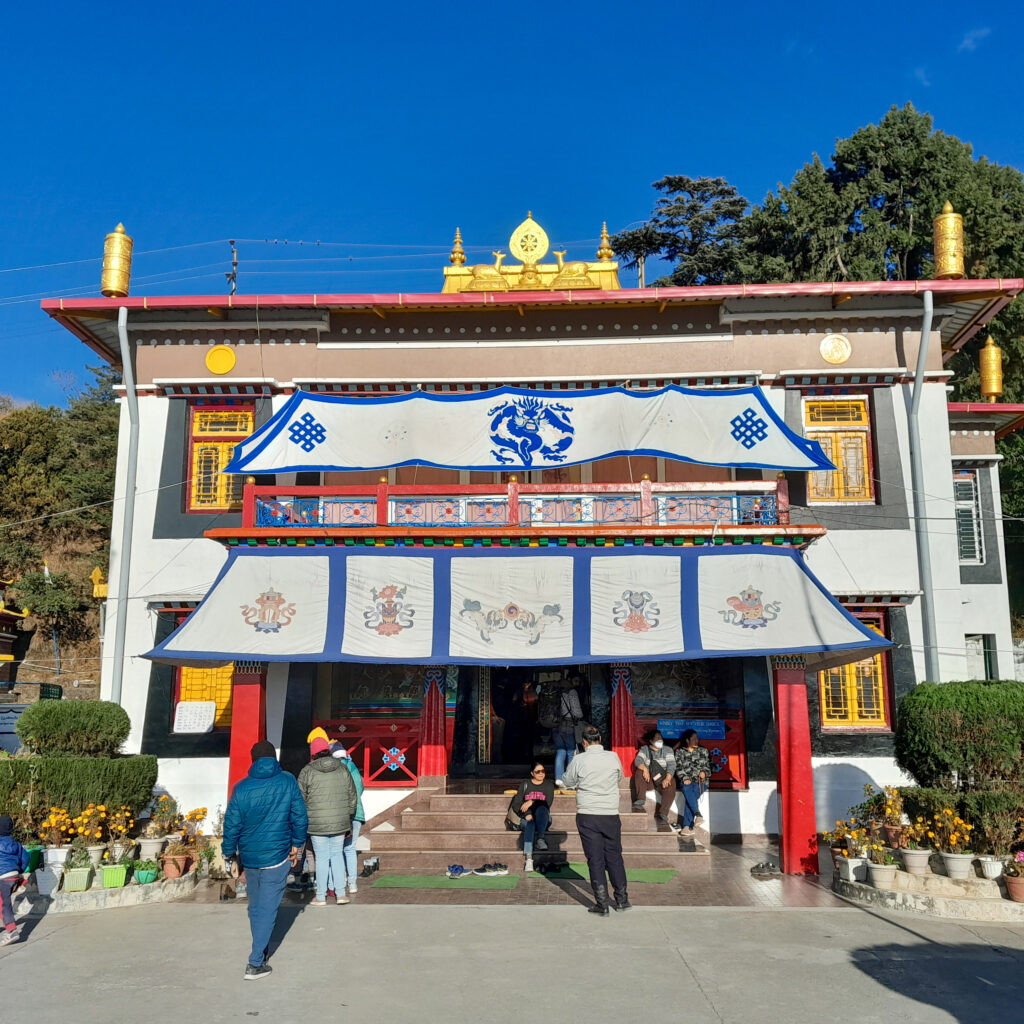 A short hike on a designated walking trail next to the temple took us to the DALAI HILLS. The Dalai Hill boasts some of the most enchanting and scenic views. After some climbing, the entire walking trail and flat hill top is covered by innumerous multi-colored prayer flags adding vibrance to the mesmerising beauty of the hill. A massive golden statue of Buddha is present on the top. The brown mountains, blue sky, white clouds and colourful flags swinging in the wind was a very welcomed refreshing change.
Less-Known Places To Explore Near Mussoorie
Sainji: The Corn Village of India
Not very far from the famous tourist spot Kempty Falls, Sainji village has somehow survived the changing times of modernization. It is nestled in between the tall barren mountains with a cluster of few houses.
What makes this village unique is that there are corns hanging on the outer walls of the homes of the villagers.
We interacted with a few village women and men trying to source information on their culture and lifestyle. Post harvest, each house hangs corn from its farm in the verandah of the house. This tradition of drying corn gives a beautiful frame to the village with yellow corn hanging outside houses in bundles. Corn is a major part of the staple diet for these people.
If you really wish to see a glimpse of rural Garhwal, then you should definitely visit Sainji when you are in Mussoorie. The village is also a heaven for birdlife. Immerse yourself in bird watching or go for a short hike, you may even find a hidden waterfall of your own. Yes, we actually found one but dear readers, the real happiness lies in finding your own trail.
Bhadraj Cafe in Dudhli Village
Dudhli village is the base for the known trek to Bhadraj Temple. Since there was not enough time for the trek, we explored the village with very few houses settled on the step farm slopes. The ride itself to the village on a narrow dirt road and hairpin bends is an exhilarating one.
Bhadraj Cafe just before the village provides a beautiful and pristine hill view. Mr. Sam, who has been running the cafe for more than 25 years, was busy doing his gardening work and listening to an old hindi song being played on the Saregama Caravan, I thought of intruding on his little space.
He welcomed us and offered a seat and we exchanged good conversation between us. The village rarely gets any visitors and if any, that too only on weekends who come to trek to the Bhadraj temple. They also conduct guided nature & birding trails and provide camping facilities. A perfect place if you are looking for that solitary time away from the turmoil of the daily routine.
Enchanting Dhanaulti
Around 25 kms, we went on a ride to Dhanaulti. An emerging winter destination offering panoramic views of the lofty Himalayas and less crowded than Mussoorie. A ride to Dhanaulti on the Mussoorie-Chamba serpentine road is every bike rider's delight. Located amidst thick, virgin forests of Deodar, Rhododendron and Oak, it has an atmosphere of perfect peace & tranquillity. Places of interest in Dhanaulti are the ECO PARK and the SURKANDA DEVI TEMPLE.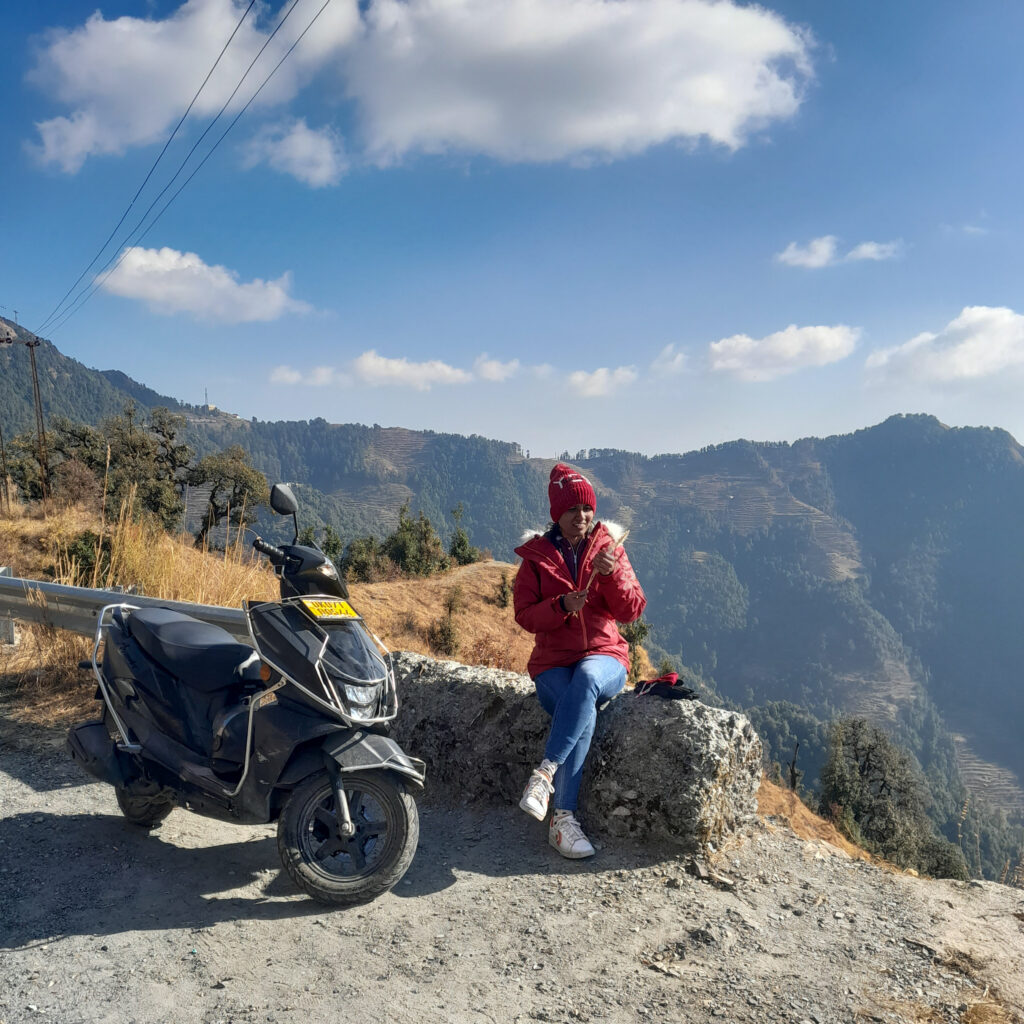 Sir George Everest House
This is one of the historical peaks near Mussoorie. From the base, the trail of around 900 metres ascends gradually to George Everest House. The trail is well laid out with a forested valley on one side and an elevated forest section on the other side. It's a proper trail made out of stones and is fenced on the valley side. Walking on this picturesque trail soothes the soul. Once you finish the trail, you will come across The House of Sir George Everest peacefully perched on the hilltop. The top of the hill provides fantastic views.
My Secret Desire To See Ruskin Bond
The Cambridge Bookstore on Mall Road has a wide variety of Ruskin Bond books displayed right at the entrance. Steffe has also taken a liking to read his books. I had introduced her to Mr. Bond through his short story 'The Blue Umbrella'. She enjoyed reading it very much and therefore read more of him in 'Himalayan Tales' & 'Night Train at Deoli'.
As I was browsing the collection a thought arose in my mind. It had been almost a week since we were in Mussoorie and we did not take a chance to meet Ruskin Bond. I had that secret desire in me to at least see him, if not meet. I knew he does not come out for walks like before due to his age, who turns 89 this year in May. But he still writes, maybe not regularly like before, but his writings at this age are full of wisdom. I ask the shopkeeper if Mr. Bond still comes to the bookstore for book signing on Saturdays and he was quick to reply 'No, he has stopped since lockdown'.
Will I ever be able to see him again if not now? Will he accept me, a tourist like many others, if I go to his house? I was surrounded with questions as the sun cast long shadows on the Mall Road giving a warm orange tinge to the sky. We kept walking as silence creeped over our thoughts in the bustling noise of the mall road. It was our last day tomorrow in Mussoorie.
'Let's go to Ivy Cottage. Whatever happens, at least we won't regret later that we did not take a chance to encounter Ruskin Bond', Steffe somehow convinced me that we should go for him.
It was 8 pm and we were standing right below his house where a staircase led to the door above. Without a thought I rushed up. Steffe followed me nervously. The door was closed. A big wooden name plate on it read, 'RUSKIN BOND' and below his name were the names of his caretaker RAKESH and his wife BEENA. Their names were not new to me as I knew them through his books.
As I raised my hand to ring the bell, to my disappointment, my eyes fell on a notice stuck on the inner door glass which said, 'Please do not disturb. We are not accepting visitors'. With heavy steps we came down. With his book in my hand I kept staring at his window from where he has given us so many stories. An hour passed and we still stood without speaking, sometimes staring at the flickering lights of the Doon valley and sometimes looking at the dim light glowing from Mr. Bond's room.
Next morning was the 1st day of the new year 2023 and we were going for bird photography in a village. Mussoorie still lay asleep after celebrating 31st December. We decided to have breakfast in brightly coloured Doma's Inn Cafe next to Mr. Bond's house. But we were denied entry as we were too early to be their first customers. For one last time, I went to see Ivy Cottage.
I raised my head to look at the window and at the same time another head peeped out of it. It was Ruskin Bond. Our eyes met each other and kept staring for a few seconds as if we knew each other. Excitedly, I raised my hand to say hello to him. Just then he slipped in like a shy bird flying upon a stranger's intrusion. I was dumbstruck as I just couldn't believe what I just saw.
What a start to the new year! Steffe missed this moment as it all happened in a fraction of a minute. But she was happy for me that I got a glimpse of Mr. Bond. The trip to Mussoorie was now in actuality complete.
It was time to head back to Mumbai. But deep down there was a moment of peace. From the balcony staring down at the road passing through the thicket of trees, the mind kept wandering back – to a picturesque village called 'Sainji' tucked away in the hills lost in the mists of time, to the walk in the evening golden light below the shade of the deodar and pine trees.
Silently I wished Mr Bond well. May he continue to weave his magic.
– Clement & Steffe