It is the time of the year when the Sahyadri range is teeming with colorful wildflowers. And one such flower which is displaying its purple carnival high on the hills of Ratangad is 'KAARVI' – THE FLOWER THAT BLOOMS ONCE EVERY SEVEN YEARS. And to witness this magical sight we did a 2 day trip to Ratangad from Mumbai using public transport.
From the highest peak of Kalsubai to forts like Alang-Kulang, Madangad and Ratangad stand on the Sahyadri mountain ranges of Akole taluka. The Pravara river which flows into the town of Bhandardara has its origin in the mountains of Ratangad.
We reached Kasara at 8 am and took a shared cab which dropped us to Ghoti in 1 hour 15 minutes. At Ghoti, a jeep was waiting for passengers and we had to spend 30 more minutes until it got full. Overall, from Kasara it took us 2 hours 30 minutes to reach Shendi. Ratanwadi village is one hour ride from here.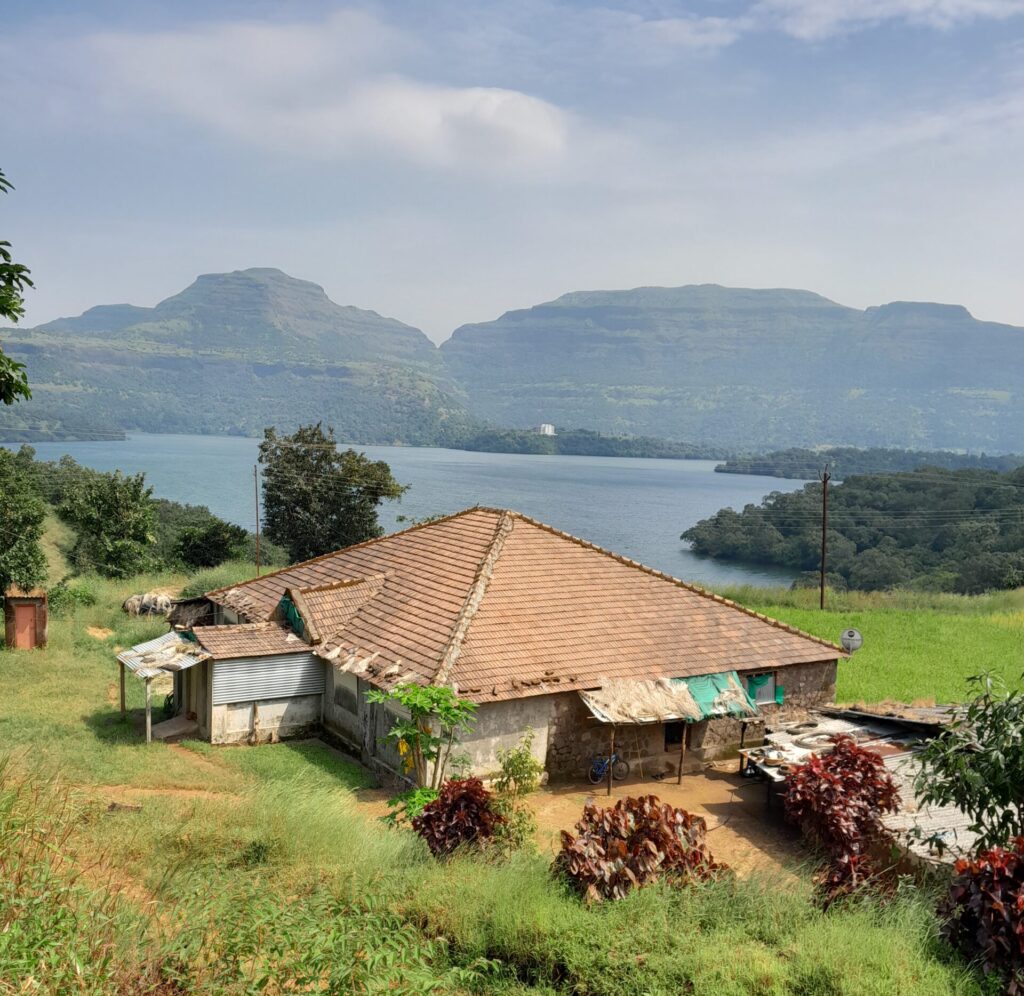 Ashok Gade (our trek guide) from Ratanwadi picked us up from Shendi on his two wheeler. The surrounding hills were draped in greenery and roadsides were lined with yellowish flame of 'sonki' (Graham's Groundsel) as we faced the bumpy ride through Kalsubai Harishchandragad Wildlife Sanctuary.
The rugged terrain of the Sahyadris always makes for a challenging trek and we were very exhilarated to do this. We would start our trek early monday morning.
It was already 1 pm as we relaxed ourselves on the veranda of our homestay. To reach Ratanwadi from Kasara was a task in itself – changing shared jeeps on two occasions and an one hour triple seat motorcycle ride on poor road conditions. This is the thrill which comes while roaming the roads. And we like to experience whatever these roads have to offer.
The location of our homestay was very isolated and close to waters of the Bhandardara dam and this made for a picturesque view from the veranda. A perfect place for a solitude seeker like me.
Ratanwadi is a beautiful village with very few houses scattered over the hills. One of the main attractions of the village is the ancient Amruteshwar Temple dedicated to Lord Shiva dating to 12th-13th century CE. The temple is located in a very picturesque location. It is bordered by a low barrier wall with the entrance towards the east. The walls and pillars of the temple are elegantly carved and adorned with lovely murals. The Nandi is placed on the backdoor of the shrine.
The tall mountain that can be seen behind the Amruteshwar temple is Ratangad standing at 4250 feet. It looks near but to reach there one has to hike for a good 3 to 3.5 hours. The trek starts from the left side of the temple where the trail initially traverses through dense jungle, climbing small and big hills, taking left-right turns and crossing small streams the trail moves ahead.
A steep moderate climb of about 3 hours and we reached the foothills of Ratangad which could be seen standing tall. There are 2 big ladders built here to make the climb easy which otherwise was difficult without technical support. After climbing the ladders, we reached the first door, known as 'Ganesh Darwaza'. It has a carved statue of Lord Ganesha. Before you enter the door, to its right side there is a narrow way which leads to a small cave which is the abode of Goddess Ratnadevi. Further ahead, there is a big cave with a water cistern. This is a suitable spot for a night camping.
A little climb after entering the first door took us to the plateau of Ratangad. Massive tall mountain ranges of Katrabai and Ajoba separated by deep and dangerous gorges grabbed my attention. I was lost in silence for some time soaking in the views of the mighty Sahyadris. Steffe was not to be seen anywhere. I heard her calling me excitedly and as I turned back she was pointing towards the slopes of Ratangad. There they were – THE KAARVI BLOSSOMS.
Eight years in the making and that moment had finally arrived. The verdant hilly slopes of Ratangad were painted with purple flowers dancing in the wind. The life cycle of the Kaarvi shrub is interesting. Every monsoon it comes alive with new leaves but once the rains are gone what is left of it is only dry and dead looking stems. This cycle repeats for seven years. In the eight year, the plant bursts into mass flowering.
The purple flowers hung at the eye-level. Many buds were yet to open but the flowering had already begun. The trail was covered with a carpet of fallen flowers which added to the beauty of the landscape. Other common wildflowers fluttering in the breeze were Silver Cockscomb (Kurdu), Graham's Groundsel (sonki), Willow Leaved Dayflower (jalpipari), Rose Balsam (terda).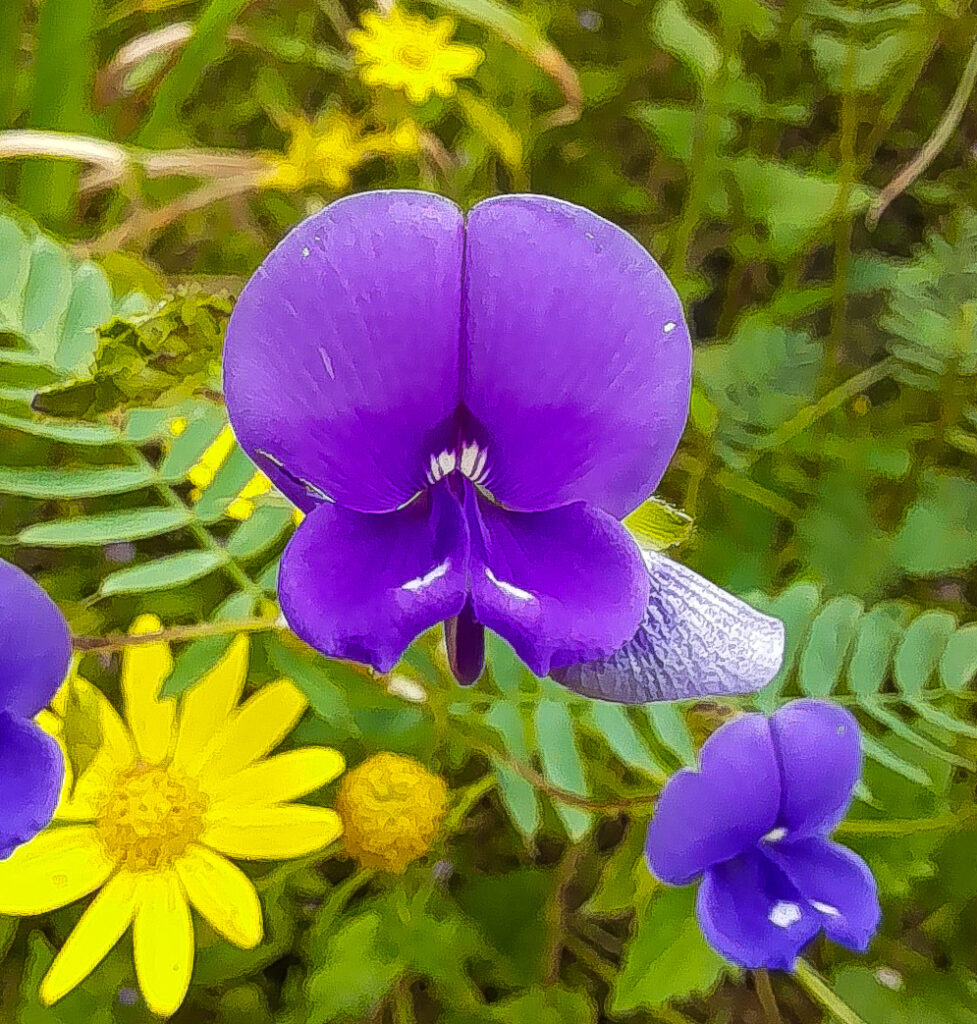 Our guide lay asleep on a rocky patch while we got busy photographing the butterflies and bees drinking nectar from the flowers. We even saw a baby snake hiding itself in a small rock in the Kaarvi bushes. A good amount of time we spent observing nature's miracle flower which in a couple of weeks may disappear in the lap of sahyadris.
Soaking in the purple landscape, we continued our trail further ahead until we reached the second door known as 'Kalyan Darwaza'. From here, we could see the highest point of Ratangad plateau. The climb was very steep with loose rocks but with the help of the railings we made it comfortably on the top. The 360 degree view from here was just amazing.
The trail now descends down towards the west and little ahead we came across the third door known as 'Trymbak Darwaza'. The steps going down the door are very narrow and broken at a few places. There is a railing for support but still one has to be very careful. Our guide informed us that this route will take 3 hours to descend down to some other village little ahead of Ratanwadi.
While walking on an open ridge, for one last time, we turned back to admire the purple carnival on display on the majestic hills of Ratangad. A wait of another seven years to witness a miracle which is guaranteed by nature. Even if it was not for the Kaarvi, Ratangad still truly is a hidden gem in the Sahyadris.
How to reach Ratangad from Mumbai using public transport – (Recommended for a 2 day trip)
Kasara – Ghoti – Shendi (Bhandardara) – Ratanwadi
Reach Shendi via below 2 ways –
Catch the first local from CSMT going to Kasara. You will be able to catch the first bus going to Shendi which comes to Kasara at 7:30 am. It takes 2 hours 30 minutes to reach Shendi. The second bus is between 10 to 10:30 am. Bus fare is Rs 90.
Second option is to take a shared jeep/taxi to Ghoti (Rs 70 per head). From Ghoti, again a shared jeep to Shendi (Rs 60 per head)
Reaching Ratanwadi from Shendi is a challenge. Shared jeeps are not very frequent, however, one needs to plan well in advance to arrange a transport. Ratanwadi is around 22 km (1 hour ride).
– Clement & Steffe